Explore is a series of weekend courses designed to train and equip God's people through a journey of learning, understanding, and personal transformation.
WHAT IS EXPLORE?
Together we will find that there is hope and help for the issues we struggle with in everyday life – issues of anxiety, stress, physical pain, emotional distress, problems in relationships, addictive behaviour and depression to name just a few.
Those who journey through Explore will grow in their personal relationship with the Lord but also become better equipped to help others as they learn how to minister in the love and power of God to those in need.
Each of the events in the series will include time for worship, biblical teaching, group discussion, activities and opportunity for prayer.
Explore courses are available at our Ellel Canada Ontario centre. As the course progresses, these weekends become increasingly more special to guests as times of learning, fellowship, worship and prayer. Each centre has their own teaching team, but the Explore teaching content is the same.
Explore offers the opportunity to briefly get away from your every day world, to enjoy the beautiful grounds and surroundings of our centre, and reconnect with God. We have an amazing team that wants to make your stay with us a deeply blessed one.
"I opened up my heart, the Lord came and ministered healing to me. This was just the beginning as the Holy Spirit continued to bring comfort and to release me from that deep inner pain that I had lived with for so long, and in that I also received my healing physically."
---
Explore Guest
WHO IS EXPLORE FOR?
It is for people aged 18 to 118! It is for new Christians or those who have been Christians for decades. It does not require any qualifications… all you need is an open heart to the Lord.
Explore is for anyone who…
…desires a deeper, closer and more meaningful relationship with God
…knows there are issues in their life that are holding them back
…wants to understand God's plan for their own life so they can walk in it
…wants to grow in their understanding of healing so that they can help others
Explore courses are split into three main sections starting with Explore A (made up of 10 weekend events). This is the place to start and through Explore A some essential foundations are laid early on which then lead to significant teachings on key issues we face in life such as rejection, forgiveness, fear, inner healing and finding freedom from the strongholds of the enemy.

For those who want to continue the journey, Explore B (made up of a further 10 weekend events) builds on the teaching of Explore A and introduces some more important topics. The final part of the journey is Explore + which is designed specifically for those who feel a heart to minister to others.

Explore is designed to be completed systematically and guests that have gone through Explore A see the life-changing effect it has on them and usually can't wait for Explore B to start! It's a journey both with God and with likeminded Christians resulting in precious friendships as the course progresses.
You can either register for the Full Explore Tour experience, by registering for all the weekend courses (seen as bus stops), or you can just hop on and off during the program's Explore journey, taking a course that interests you most. The final stop, the Healing Workshop, is only available to those on the full Explore Tour "tickets".
ENCOUNTER DAYS
In addition to the encounter times on each event, there will be an optional Encounter Day available during both the Explore A and B series for those on Explore to attend and receive personal prayer ministry. There is no charge for these days and they provide an opportunity to spend an extended period of time alongside our ministry team to talk and pray through issues that the Lord highlights.
"The biggest change for me is a new passion for God. I can look back at my life and see the way I've been gently guided to the point I'm at now and I trust God to take me wherever he has planned. I trust him completely. I have a desire to continue to grow closer to him and I pray that the passion I have only grows with that."
---
Explore Guest
The following centers run Explore A and B over a series of weekend courses: Ellel Canada Ontario
FRIDAY
Each Explore weekend will start with an evening session of worship and teaching.
SATURDAY
There will be a mix of worship and challenging and inspiring teaching sessions alongside opportunities for personal reflection and group discussion time. There will also be an 'encounter' session where there will be an opportunity to respond personally to the teaching and to receive prayer ministry from our Ministry Team.
SUNDAY (OPTIONAL)
Although the formal program finishes Saturday evening, we highly recommend guests stay until Sunday. This provides a valuable opportunity for rest, personal reflection with the Lord, and fellowship. The day will start with breakfast followed by a member of our team sharing a short devotional message. Please note that there will be an additional cost for those who choose to stay overnight. Lunch on Sunday is not provided.
TRY A COURSE
Each Explore event is open to anybody to try out. So, if you are unsure about signing up for the whole series, why not try one? We recommend trying A1-3 so that you can decide if you want to carry on the full experience of the journey with the other "Explorers".
TEACHING NOTES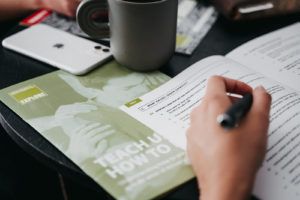 Special teaching notes and a journal booklet will be handed out at the beginning of each Explore course. Each booklet contains the main teaching notes along with questions, activities, and scriptures relating to the course topic – all designed to help you continue to grow and receive from the Lord in your own time.
FULL-TIME STUDENT EXPLORE COSTS

$1150/year


Those who register for the Explore program will be required to pay a

$250 deposit

. Once you are registered your first monthly payment of

$100

will be due on the 15th of February, and every month following (Except for July and August). The total cost per person per is

$1150/year

which includes all meals and refreshments and teaching notes.
For those wanting to stay overnight on Friday and Saturday to enjoy a cooked breakfast and time for personal reflection on Sunday morning, there will be an additional cost of

$125 per person or $200 per couple

, per weekend.
PART-TIME STUDENT EXPLORE COSTS

$135/weekend


If you would like to attend Explore sporadically or when a topic interests you, you can attend as a part-time student.
PASTORAL EXPLORE COSTS
Pastors can attend the Explore School at no cost. If they wish to stay on-site however they will have the cost of

$125 per person

for accommodation.
POST-SECONDARY STUDENT EXPLORE COSTS
Active students can attend the Explore School at a reduced cost of 50% off (

$575/person

). If they wish to stay on-site however they will have the additional cost of

$125 per person

for accommodation.
Can I pay monthly for the school?
Can I try out the school?
Can I attend one weekend only?
When is the last month to be full time?
How does it work if i'm from out of town?
BOOK YOUR PLACE
To register for Explore complete the simple form below and we will be in touch soon.